Schumacher Wins In Spain, 57th.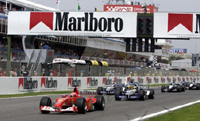 The Grid : The Minardi team pulled out both of their cars from the Spanish Grand Prix due to safety issues with the front wing. Eddie Irvine's qualifying position was scrapped after inspection revealled an unapproved fuel substance the was found in his Jaguar R3 and was placed in the last position.
The Start : Barrichello loses his drive and is unable to pull off the grid on the parade lap. His car was pushed back into the pit garage. Although engine was still running the car was not going anywhere today. Michael Schumacher got away cleanly into the first corner with the rest of field in formation.
Lap 2 : Pedro De La Rosa lost the back of his Jaguar and spun into the gravel trap. Kimi Raikkonen lost his rear wing but managed to bring his McLaren back to the garage and retire from the race for the fourth time this season.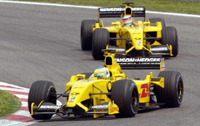 Lap 5 : Fisichella retired from the race and also team mate Sato ran wide in turn thirteen and despite his best efforts could not keep the car out of the gravel. Both Jordan's out of the race.
Lap 15 : Michael Schumacher leading with thirteen second ahead of Ralf Schumacher, Juan Montoya, Jenson Button, David Coulthard and Jarno Trulli.
Lap 23 : Battle for fourth place between Button , Coulthard and Trulli.
Lap 24 : Ralf Schumacher pits and replaces his front wing to add more downforce. Jenson Button pitted also.
Lap 25 : Montoya also pits and replaces his front wing for more down force on his car. Michael Schumacher pits for the first time and emerges at the head of the field as Coulthard and Heidfeld whi still have to stop.
Lap 27 : Heidfeld pits.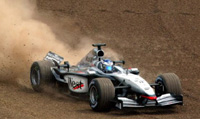 Lap 28 : Coulthard pits. Meanwhile Ralf Schumacher runs wide into the Campsa corner and running over the grass causing the left barge board of his Willimas to break off and head for the pits for a replacement.
Lap 30 : Michael Schumacher leads Montoya, Button, Coulthard, Trulli and Heidfeld.
Lap 33 : David Coulthard slipstreamed Button down the start-finish straight into turn 1.
Lap 41 : Ralf Schumacher pits again and replaces his front wing in order to help him gain some ground
Lap 42 : Eddie Irvine retires from the race and Heidfeld and Button battle for fifthe and pit at the same time.
Lap 45 : Panis retires from the race. Juan Montoya pits and accidentally injures one of the pit crews as the car is still being refuelled.
Lap 48 : Massa hassles the tardy Renault of Jenson Button for sixth place with Frentzen closing in with his Arrows.
Lap 56 : Massa overtakes Button.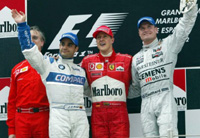 Lap 61 : Trulli retires from the race and gives Frentzen the opportunity to claim the sixth position.
Finish : Michael Schumacher wins his 57th grand prix, Montoya claims the second position followed by David Coulthard takes the third spot. Ralf Schumacher's Williams BMW engine expires on the final lap of the race.