SCHUMACHER WINS THE CANADA GRAND PRIX.
It was the most beautiful day for a Grand Prix race in Montreal, it was not too hot with a steady wind to keep everybody cool for a huge crowd of 117,000 at the Circuit Gilles Villeneuve. Who can ask for anything more. The race was exciting, had a lot of passing and the smell of fuel was in the air.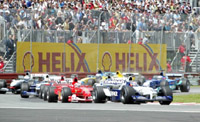 Start: Juan Montoya made a perfect start to beat Michael Schumacher into the first corner, as did Rubens Barrichello who took up second from his team mate. Kimi Raikkonen jumped ahead of Ralf Schumacher with D. Coulthard up to sixth from eighth place grid slot.
Lap 1: Rubens Barrichello took the lead away from Montoya and out dragged him all the way down to the start - finish straight into the first corner running on a very light fuel load. Barrichello was running hard and fast and by the looks of things he was well on the way to his first Canadian Grand Prix victory.
Lap 9: Jacques Villeneuve retires to a halt half way down the Casino straight. The rear wheels of the stricken BAR locked up causing marshals no end of difficulty as they tried to remove it from the track.
Lap 14: Safety car is called and ends the massive lead that Barrichello was trying to maintain and according to Rubens it ruined his race and strategy. Meanwhile Montoya takes advantage to do a pit stop. Standings: R. Barrichello (leader), M. Schumacher, R. Schumacher.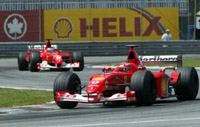 Race resumes: The two Ferrari's lead the way followed by Raikkonen but he and R. Schumacher run wide into the final chicane allowing Montoya to pass down the start-finish and get on the hunt for the Ferrari's.
Lap 21: Barrichello is lapping three seconds faster than team mate M. Schumacher and four second ahead of Montoya.
Lap 25: Barrichello pits for the first of two stops - ten seconds later after taking on fuel and having debris removed he rejoins in sixth position behind D. Coulthard.
Next 10 laps: M. Schumacher was increasing his lead over Montoya to 21 seconds. Standings: M. Schumacher (leader), Montoya, Raikkonen, R. Schumacher, D. Coulthard and R. Barrichello.
Lap 37: M. Schumacher pits and Montoya reclaims the lead for the first time since the start.
Lap 39: Montoya leads M. Schumacher. Questions arise whether Montoya can complete the race with just one pit stop. Raikkonen continued to race a cool race in third ahead of R. Schumacher, D. Coulthard and R. Barrichello.
Lap 44: R. Schumacher makes his first pit stop and his refuelling rig fails to deliver his payload, and the replacement failed him too.
Lap 45: R. Schumacher re-enteres the pit to get some fuel.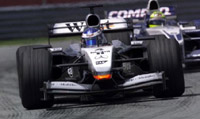 Lap 48: D. Coulthard makes his only pit stop of the rcae and rejoins ahead of his team mate Raikkonen. Both McLarens holding 4th and 5th position.
Lap 50: Montoya makes another pit stop, drops to third position behind the Ferrari of M. Schumacher and Barrichello.
Lap 53: Barrichello makes his second and final pit stop for fuel and tyre change. He rejoins in fourth behind Montoya and Coulthard.
Lap 56: Montoya's Williams-BMW engine blows and retired from the race. A very disappointing end to a successful week-end for the Colombian. This is the second race that Montoya fails to complete. With Montoya out of the picture, M. Schumacher is able to breath easier and starts to settle down for the final few laps left to go.
The battle for second: Barrichello caught Coulthard down the Casino straight alongside the McLaren forcing coulthard to cut the corner retaining his position. Barrichello followed the Scot through by cutting the corner but made sure to wag his finger at Couthard from the cockpit of the Ferrari.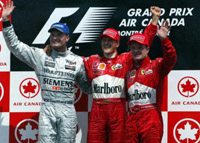 Finish line: M. Schumacher kept his cool though and coasted to his sixth victory, his 59th career victory, 150th victory for Ferrari. David Coulthard took the second spot and Barrichello claimed the third position. Ralf Schumacher's engine blows just after passing the finish line. A very bitter end for the Williams team with no driver's scoring points for the team.
Next stop: Germany for the European Grand Prix.