Michael Schumacher wins at home with Ferrari!
Did Not Start: Alex Yoong / Minardi. Did not qualify yesterday.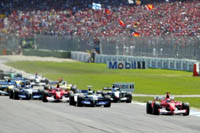 Start: Michael Schumacher got away cleanly from the grid into the lead with brother Ralf Schumacher behind him, meanwhile Kimi Raikkonen passed Montoya to go fourth behind Rubens Barrichello.
Lap 5: Michael Schuamcher led Ralf Schumacher by almost five seconds as the order at the front was maintained.
Lap 10: The battle between Montoya and Raikkonen was heating up. Juan Pablo Montoya was all over the back of Kimi Raikkonen's McLaren. The Columbian tried to overtake around the outside of the hairpin, but the Finn would not accept it and fought back to retain the lead only to be challenged by Montoya through the mid sector, and the Williams driver finally passing the Finn on the inside of the Agip corner.
Lap 25: Rubens Barrichello pitted from thrid followed by Michael Schumacher on the next lap.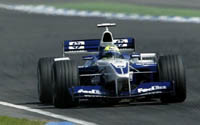 Lap 27: Ralf Schumacher put the hammer down andn set the fast time only to be baulked by the stray BAR Honda of Jacques Villeneuve as he dived down the pit lane. Ralf rejoined the race behind his brother Michael and in front of Rubens Barrichello.
Lap 38: Kimi Raikkonen suffered a pouncture on his rear tyre, locking up and managing to keep control of his McLaren long enough to make his way back to the pits. This reminded me of the days of Gilles Villeneuve.
Lap 46: Rubens Barrichello did his second and final stop of the day. A refuelling-rig problem caused Barrichello to be stopped for almost 20 seconds and dropped him to fourth postion.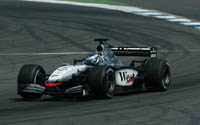 Lap 47: Michael Schuamcher pits for the second and last time of the race.
Lap 48: Ralf Schuamcher pits and rejoins behind his brother Michael.
5 Laps to go: Ralf Schuamcher is called into the pits to have his pneumatics topped up. After a brief stop he rejoined in thrid place, behind his team mate Juan Pablo Montoya.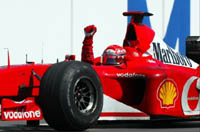 Finish: Michael Schumacher strode home to his second German Grand Prix victory. Juan Pablo Montoya took the second position and Ralf Schuamcher took the third spot. Barrichello claimed fourth, Coulthard claimed fifth and Heidfeld claimed the sixth and final spot for the points.
Next Race: Hungarian Grand Prix.