RALF SCHUMACHER WINS IN MALAYSIA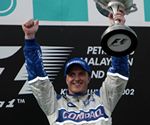 Ralf Schumacher wins his fourth career grand prix in Malaysia after Juan Montoya and Michael Schumacher tangled in a first corner incident which forced Michael Schumacher to loose his pole position and change his front wing which dropped him down to last place while Montoya dropped to 11th position before the first lap was completed.
Montoya and Michael Schumacher battled for the first position from the get go, Michael Schumacher moved across in front of Montoya to protect his position. Montoya reacted by moving out to Schumacher's left and the pair arrived to turn one side by side. Montoya refused to stand down and allow Schumacher to keep his position and squeezed the Ferrari of Michael Schumacher and resulted in a contact of the front wing of Schumacher's Ferrari and forced Montoya to spin out and drop down to 11th place.
Michael Schumacher was forced to go to the pits before completing lap 1 and replace his front wing, Michael Schumacher fond himself in 21st place.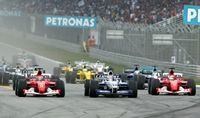 As a result of the incident, Rubens Barrichello claimed the lead ahead of Ralf Schumacher, Kimi Raikkonen, David Coulthard, Nick Heidfeld and Jenson Button.
While Montoya was battling for positions to climb back up the ranks, Michael Schumacher was burning up the track and positioned himself from 21st to 19th. Montoya was given a pit drive-by penalty for the first turn incident. Montoya said during the interviews, " I think it was very unfair."
Barrichello continued to lead the Malaysia Grand Prix, in front of Ralf Schumacher and both McLarens of Kimi Raikkonen and David Coulthard. Montoya was currently in 9th position and Schumacher was up to 15th position.
On lap 13 spelled disaster for Coulthard's McLaren was forced to drop out of the due to mechanical problems. Coulthard has yet to finish a race this year.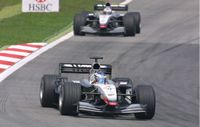 As Barrichello enters the pits for his first stop, Kimi Raikkonen claims the lead for the first time of career followed by Barrichello who follows behind. But Raikkonen's lead would not last long.
On lap 25 Kimi Raikkonen's McLaren suffers an engine blow out with a spectacular smoke show and enables Ralf Schumacher to claim the lead.Ralf Schumacher was on a one stop pit strategy and had yet to come in to the pits.
On lap 30, Ralf Schumacher pits for the only time in the race and gives Barrichello the lead. Barrichello still has to pit one more time. A good move for Ralf Schumacher to reclaim the lead somewhere down the road.
With only 23 laps remaining, Rubens enters the pits for his second stop allowing Ralf Schumacher to reclaim the lead and meanwhile Michael Schumacher has just moved up to fifth position.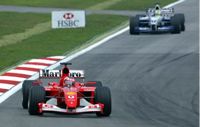 Race order on lap 36: Ralf Schumacher (leader), Rubens Barrichello, Juan Montoya, Jenson Button, Michael Schumacher and Nick Heidfeld .
Lap 40 was the end for Barrichello as his Ferrari engine gives out which ended his hopes of winning the Malaysian Grand Prix. This secured the Williams one, two position, while Michael Schumacher was still climbing up the ranks in hopes to claim the third spot.
The Renault of Jenson Button was the only obstacle that Schumacher and his Ferrari were facing. On the final two laps, Jenson Button had to slow down due to an engine problem that was developing which enabled Schumacher to claim the third position.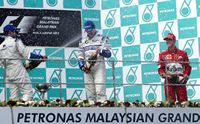 The top three driver's only 2 points apart from each other. Brazil is the next race and Ferrari really needs to bring out the F2002 in order to compete with Williams and defend their titles.
Next stop -> BRAZIL.