TOTAL FERRARI DOMINATION
Yesterday Michael Schumacher and Rubens Barrichello dominated the qualifying session by taking the front row with Ferrari's top man Michael Schumacher on pole position. Today it was an all Ferrari dominated race with a 1-2 finish on Ferrari's home track and crowd.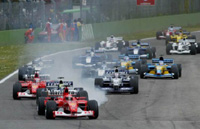 Start : Michael Schumacher leads the way as brother Ralf Schumacher jumps past Rubens Barrichello for second position into the first corner. A cool and clamm Juan Montoya, Kimi Raikkonen and David Coulthard maintained their positions to complete the top six. The two Renault's continued to make impressive starts as Trulli and Button noth pasted Nick Heidfeld's Sauber. The first retirement of the race fell to Allen McNish whose launch control failed him at the start.
Lap 10 : Michael Schumacher had setup and eight second lead over his brother Ralf Schumacher followed by team-mate Rubens Barrichello who was building an attack on Ralf.
Lap 16 : Michael Schumacher had extended his lead by twelve seconds over his brother.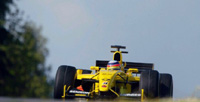 Lap 20 : Giancarlo Fisichella pulled off the track and ending his race day for Jordan. Just earlier his team-mate Takuma Sato retired after his transmission failed. It has been a very rought start for the Jordan team so far this year.
Mid-Way : Michael Schumacher still extending his lead by seventeen second over his brother ralf and team mate Rubens Barrichello. This is the first race that Barrichello is running with the new Ferrari F2002.
Lap 30 : Michael Schumacher heads to the pits for his first stop of two and rejoins the race after 7.4 seconds behind his team-mate Rubens Barrichello. Also Ralf Schumacher heads for his first of two pit stops.
Lap 31 : Barrichello's turn to do his first of two pit stops and rejoins after 7.4 seconds ahead of Ralf Schumacher. Juan Montoya makes his first of two pit stops and maintains his fourth position upon rejoining.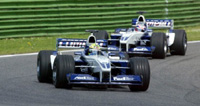 Lap 33 : The two Ferrari's are in front; Michael Schumacher & Barrichello, followed by the two Williams; Ralf Schumacher & Montoya, followed by both McLaren's of Coulthard and Raikkonen to complete the top six.
Lap 34 : Coulthard miaks his first of two pit stops and drops to seventh position behind the Renault of Jenson Button.
Lap 40 : Kimi Raikkonen forced to retire.
Lap 46 : Michael Schumacher pits for the second and last time, followed by Ralf Schumacher some twenty second later.
Lap 47 : Barrichello pits for his secodn and last time but runs into some problems with the mounting of the left rear tyre that costs him 14 seconds but still manages to get out ahead of Ralf Schumacher who is currently in third position.
Lap 48 : Montoya makes his second and last pit stop and keeps his fourth position behind the two Ferrari's and team-mate Ralf Schumacher. This was a very non-active Montoya.
Lap 50 : Michael Schumacher leads Rubens Barrichello, Ralf Schumacher, Montoya, Jenson Button and David Coulthard to complete the top six positions.
8 laps to go : David Coulthard is given the blus flag to let race leader Michael Schumacher the right of way.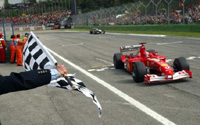 Finish : Michael Schumacher went on to win his fourth victory at Imola and 56th career win. Rubens Barrichello completed his first race of the season and taking the second position. Ralf Schumacher and Montoya in Williams cars took third and fourth and Jenson Button took another two points for the Renault by finishing fifth and Coulthard took the last place with 1 point.
Michael Schumacher has a good lead with 34 points and his brother Ralf has only 20 points thus far. Still it is very early in the season to tell if this will be again a Ferrari Championship.
The next race is in Spain, Barcelona.