Coulthard Electrifying in Monaco
David Coulthard had a super fantastic week-end and claimed the first victory of the 2002 season on the track that he knows very well and enjoys to race on. Michael Schumacher took the second spot followed by his brother Ralf in third. While I was watching the podium ceremony, the smile on his face stretched from ear to ear and it was a well deserved victory for a competitor that is well admired.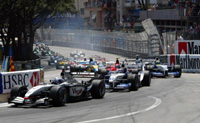 Start : Coulthard made a blinding start to leap ahead of pole position Juan Montoya into the first corner. Michael Schumacher maintained his third position ahead of brother Ralf. Trulli also made a super start by passing Raikkonen and Barrichello from fifth to seventh.
Lap 5 : Button gets a stop/go penalty for having jumped the start. Meanwhile Michael Schumacher was breathing down the neck of Juan Montoya who was in second place. The top four: Coulthard, Montoya, M. Schumacher and R. Schumacher.
After 15 Laps : No change with the top 4.
Lap 19 : H. Frentzen overtakesM. Salo on the run out of the tunnel. Frentzen set the fastest lap at this point.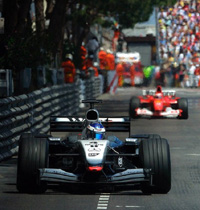 Lap 23 : Sato smashes in the tunnel. In trying to move aside to allow Fisichella through, Sato lost control of his Jordan in the tunnel slapping into the barriers and sliding all the way down into the tyres at the Chicane.
Lap 28 : Arrows out drages the Sauber down the pit straight to go clearly on the approach to Ste Devote. Massa locks up on the approach to the first corner making the most gentle contact with Bernoldi and pushing his fellow Brazilian into the escape road.
Lap 31 : Coulthard lapping at a very fast pace but there were signs of uncertainty as blue smoke was showing from the engine of his McLaren. Still Montoya and Michael Schumacher were close behind.
Lap 40 : Barrichello gets to close to Raikkonen and ripping his front nose but managed to to back to the pits in order to replace it. However McLaren was faced with more laborious task of replacing Raikkonen's rear wing assembly. Barrichello was given a 10 second stop/go penalty for causing the accident.
Lap 44 : M. Schumacher pits his one stopper while Barrichello served his penalty. Schumacher rejoins the race in fourth place.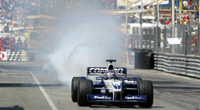 Lap 45 : Montoya's BMW shows signs of trouble as his car puffs out smoke and allowing Ralf Schumacher to pass and drops out of the race. Race order: Coulthard (leader), R. Schumacher, M. Schumacher.
Lap 50 : Ralf Schumacher pits and rejoins behind his brother Michael. Coulthard pits also for his one stopper and rejoins again in the lead ahead of Michael Schumacher.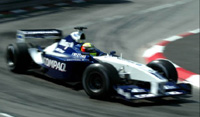 27 Laps to go : Michael Schumacher applying the pressure and waiting for a chance to overtake Coulthard. Ralf Schumacher held the third spot ahead os Fisichella. Frentzen held off Barrichello for the final spot in the points.
10 laps remaining : Barrichello was setting fastest laps after fastest laps zooming in on the rear wing of Frentzen and his Arrows.
Finish : Coulthard claims his victory at Monaco followed by Michael Schumacher in second, Ralf Schumacher claims distant third followed by Trulli, Fisichella and Frentzen to complete the top six. Barrichello did not score any points.
Next race : Montreal, Canada.