5th World Championship for Michael Schumacher.
Retirement: R. Barrichello was unable to participate because for one he was still on the jacks for the parade lap and had to be pushed back to the pits. Once there his Ferrari did not want to start due to some problem with his steering wheel. A frustrated Barrichello was forced to retire before even starting from the French Grand Prix.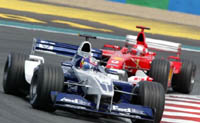 Start: Montoya got off the line cleanly and dived in front of Michael Schumacher with Kimi Raikkonen getting past Ralf Schumacher into third, David Coulthard fifht and Jenson Button Sixth.
At the front: Michael Schumacher swarmed all over the rear of Montoya's Williams-BMW. Kimi Raikkonen was keeping a good pace with the leading two, even challenging Montoya and M. Schumacher as the pair became embroiled in a battle for the lead.
10 Laps in: Just two seconds separated the top three runners. Montoya (leader), M. Schumacher, Raikkonen.
Lap 22: Ralf Schumacher pits giving way for Coulthard who suddenly began to close in on the leading trio of Montoya, Schumacher and Raikkonen.
Lap 23: Montoya pits and rejoins the race in fourth place, ahead of Ralf Schumacher.
Lap 26: Current leader Michael Schumacher pits allowing Raikkonen to take the lead of the French Grand Prix. Michael emerges just a few metres ahead of Montoya. Both McLarens still have to do a pit stop.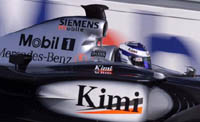 Lap 27: Raikkonen pits for the first time like all the rest of the front runners. Raikkonen rejoins just behind Montoya.
Lap 28: Coulthard pits also and takes on a huge amount of fuel and rejoins in fifth position behind Ralf Schumacher.
Lap 34: Michael Schumacher serves his drive-through penalty for clipping the of the white line at the area where the pit exit and race track merge. Kimi Raikkonen is in third at this point.
Mid race: Just 3.5 seconds separate the top five drivers.
Lap 42: Montoya pits for the second time and his final stop of the race.
Lap 43: Ralf Schumacher pits and upon exiting the pits he to clips the pit lane white line just like his brother did earlier and was given a penalty.
Lap 48: M. Schumacher pits for the final time today. Schumacher rejoins the race in third behind Coulthard as Ralf served his penalty.
Lap 49: Raikkonen pits for the final time also and emerges ahead of Michael Schumacher. The pressure starts to build for the young Raikkonen. Coulthard is currently leading the French Grand Prix. Both Williams cars at this point have fallen back considerably. Reason for this are still unsure but tire selections have something to do with it.
Lap 53: Coulthard pits for his final stop but as he emerged from the pit, Coulthard did the same mistake as did both Schumacher brothers and was handed down a penalty. Coulthard is currently in third position.
Lap 58: Coulthard serves his penalty and rejoins at the same position (third) a head of Montoya who was very far in the distance.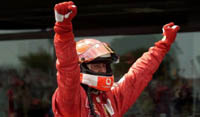 5 Laps remaining: Allan McNish spins out and distracts Kimi Raikkonen who brakes too late, running wide at the corner. Yellow flags were out, but Raikkonen was off the normal race track as Schumacher muscles in a takes the lead from Raikkonen. It would have been very nice to see Raikkonen win his first Grand Prix of his career. He ran a very spectacular race and thought for sure it was Raikkonen's day of glory. But let this be a lesson for him that one day a situation like this will arise and he will be able to respond.
Finish: Michael Schumacher wins his 8th Grand Prix of the season, 61 career victory and 5th Drivers World Championship. What an exceptional Formula 1 driver's record. Today was a day for making history. He is the only driver to win the championship so quickly and in the month of July. With many races left on the F1 schedule, the second position is up for grabs between Montoya, Barrichello, R. Schumacher and Coulthard.
Next Race: German Grand Prix, home race for both Schumacher's.