Ferrari orders Barrichello to STAND DOWN!!!
It was en excellent week-end for Rubens Barrichello. Yesterday he captured the pole position and prevented everybody else including his team-mate Michael Schumacher from stealing the pole. Today Barricello started in ploe position, maintained it until the final few metres when the call had been handed down to both driver's which order Barrichello to stand down and for Michael Schumacher to take the win at the Autrian Grand Prix. This was a total shock and one that took every one by surprise.
After signing a two year contract until 2004 and showing all at Ferrari that he has alot of potential this is how they treat him! I sincerely hope that they do acknowledge that Barrichello had the Austrian Grand Prix won. As for Michael Schumacher he did what was right and giving Barrichello the podium and trophey that was rightfully his.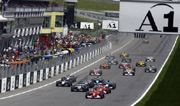 Start : Michael Schumacher makes a good start and beats his brother Ralf into the first corner while Barrichello maintains the lead. Heidfeld jumps to fifth and overtakes Ralf Schumacher around the outside of the first corner.
Lap 2 : Barrichello leads Michael Schumacher, Ralf Schumacher, Juan Montoya, Heidfeld and Coulthard to complete the top six.
Lap 5 : Kimi Raikkonens McLaren aborts due engine failure. The team anticipated a very good week-end with both cars performing to satisfaction.
Lap10 : Both Ferrari's of Barrichello (leader) and Michael Schumacher have a 17 second lead over Ralf Schumacher (Williams). Between both Ferrari's, there was only a one second difference.
Lap 16 : Heinz Harald Frentzen spins out with a 180 degree rollong backwards down the Start-Finish straight. Meanwhile Jacques Villeneuve has claimed the seventh position by passing Mika Salo.
Lap 24 : The BAR of Olivier Panis seizes up and spins across the start-finish straight and comiong to a complete stop in the middle of the trak. The safety car is ployed and this is the perfect chance for Ferrari to head for the pits (1 of 2 stoppers).
Race Resumed : As the race resumes, Nick Heidfeld looses contol of his Sauber which plows right into the Jordan of Takum Sato on the side. Montoya missed the hit by a few milliseconds.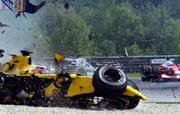 Safety Car : The safety car was deployed as the medical team rushed to the scene of the accident where Takuma Sato was still sitting inside his car. A shaken Nick Heidfeld leaned on the barrier and watched on with concern as medical teams tended to a concious, but seemingly stuck Takuma Sato.
Half Point : Ralf Schuamcher and Montoya of the Williams team still have to do their 1 stopper of the day.
Lap 47 & Lap 51 : Williams call in their drivers for their 1 and only pitstop. Ralf Schumacher changes tires and adds fuel and as Montoya he only adds more few. Ralf Schumacher was running a softer tyre as opposed to his team-mate Montoya was running on a harder tyre.
Lap 61 : Rubens Barrichello pits for a quick splash and dask stop of six second and rejoins in second position behind Michael Schumacher.
Lap 62 : Michael Schumacher heads for the pits for his second stopper and re-enters the race behind Rubens Barrichello.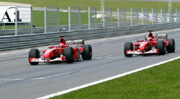 Towards the finish line : In the final laps Rubens Barrichello is starting to slow down in order to allow Michael the pass win. With only a few metres left to the finish, the switch has been made and Michael Schuamcher takes the unpleasant win at the Austrian Grand Prix. Barrichello has to accept second after all his hard work and super week-end. Still good work Barrichello. Next race : Monaco.
An unpopular crowd booed Michael Schumacher with disapproval. Although it was not his decision. It comes from the team upper management who decided that Michael Schumacher should take the win because Ferrari has solidify the 2002 Championship now.